SumUp Pro
SumUp Pro is a premium version of SumUp that adds additional features for professional users. It requires a paid annual subscription.
With SumUp Pro you can configure multiple sums, each with a separate color.
How do I access SumUp Pro?
SumUp Pro requires a paid subscription. To purchase a subscription visit the Buy Pro page.
Once you have completed your purchase, you will receive an email containing a Subscription Key. A Subscription Key looks like this:
123e4567-e89b-12d3-a456-426614174000
To unlock Pro you must paste this key into the SumUp Board Settings. This animation shows how to do this.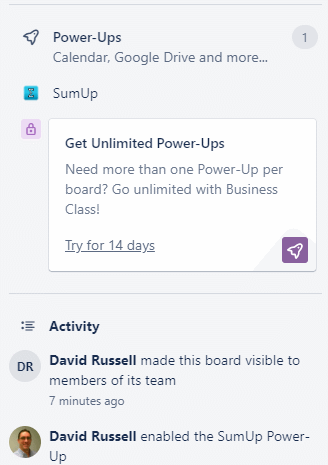 How do Pro subscriptions work?
Pro subscriptions are charged per board. This means you need a subscription for each board that uses SumUp. All users assigned to the board receive full access without additional cost.
Subscriptions are managed via Subscription Keys. A Subscription Key is a sequence of numbers and letters that are unique to your purchase. To unlock Pro mode, you must enter a valid Subscription Key into the board settings.
Each Subscription Key has a maximum number of boards it can be registered with, depending on your purchase choice. Keys can be deregistered from a board and transferred to another board.
This image shows the details of a Subscription Key, including a list of boards it has been applied to, the maximum number of boards it may be applied to, and date when the key will expire and need renewal.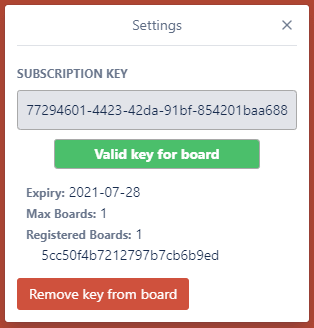 How do I transfer a Subscription Key to another board?
If you want move a Pro subscription to another board, you can do this from Trello.
Simply open the SumUp board settings, click 'Subscription Key' and click 'Remove key from board'. The Subscription Key can then be re-used on another board.
Important: you should do this before closing or deleting a board. If you delete a board before removing the key, please contact us and provide your Subscription Key, and we will reset it.
How do I unsubscribe from SumUp Pro?
Subscriptions are managed via Stripe, and are set to renew automatically by default. If you want to discontinue your subscription, please contact us and provide your Subscription Key.
SumUp Pro subscription refunds
'Change of mind' refunds are available for 14 days from date of purchase. This applies to new purchases and renewals. To request a refund, please contact us and provide your Subscription Key. Allow up to 31 days for processing.